on
February 1, 2015
at
12:29 AM
Author's note: I'll do an actual update soon with actual site-related news and so forth, but this was too good not to pass on.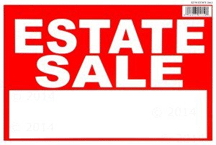 Last Friday as I took my kid to his grandmother's house, I passed a sign that had those two lovely words on it, "Estate Sale." For those who don't partake of these, they're a neat opportunity to pick up some garage sale-ish items (or nicer stuff, if you have the money) as well as see the inside of a house that isn't your own, hopefully finding at least one or two things that make you feel better about the place you occupy.
It's also pretty standard that you're going through the things of someone who is recently deceased, or is close to it, which I believe was the case here. I know some people who find that part of the whole affair distasteful, but there's the philosophical side that it's all a part of that great circle of recycling things that we don't so much "own" as "rent" (in the long run).
Anyway, this particular estate sale screamed "cat lady," though she appeared to have owned dogs as well. There were lots of pet-oriented items, like an entire set of multicolored dishes with 6 place settings and every dish festooned with the word "SPOILED" in raised ceramic. There were cat-shaped teapots, spoons, and knickknacks. There were shelves of books about cats and dogs, and even some Christmas decorations featuring pets as angels and Santas.
I looked through the things there and saw they had a big iron skillet for sale. I'd forgotten to bring some cash, so I told my wife, Cristi, where the sale was and if she wanted to drop by the next day, getting the skillet would be great. She and my older nephew, Xavier, went by, and later she came home and told me about something I'd missed.
"Did you go into the back room in the basement?" she asked. "The one with all the holiday decorations?"
"Yeah," I said, remembering. "I poked around in there, but didn't see anything I wanted."
"Did you see the boxes up high on the shelf built into the wall?"
"No. Why? What was in them?"
"We'll get to that. When I saw them, they were plain, white, square boxes that looked like the ones you'd keep a commemorative plate in."
Cristi knows this because her mom is among those who purchase family members those Royal Copenhagen blue & white plates with the year on them.
She continued: "They had names written in marker up in one corner, like 'Michael' and 'Sarah.' We'd seen them on other stuff in the house, so I figured, 'These must've been special Christmas items for her kids or something.' I took a box down, and it was pretty heavy. Inside was a velvet bag. While I was opening the bag, I felt another plastic bag inside it, like a Ziploc or something. Then I saw the inside of the box lid and yelped, tossing the box to Xavier."
"Why did you yelp?"
She ignored the question. "Then Xavier saw the inside of the box and saw the printed info for 'Wayside Waifs.'"
It's at this point that many Kansas City residents would recognize 'Wayside Waifs' as a local animal shelter.
I slowly put two and two together. "So those boxes were full of…"
"Her cremated pets!"
I considered for a moment. "How much did they want for them?"
"I don't know!"
"You mean you didn't ask?"
Apparently, you don't ask these kinds of things. Or at least, she doesn't. I don't know where her priorities were, but I can't bring you what the current market rate is for secondhand pet ashes. I'll try to do better in future blog posts.