on
June 24, 2016
at
9:30 AM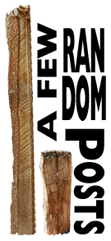 I know I've been on-again-off-again blog-wise, but it was the end of the schoolyear for my teacher-wife, and our house is filled with the usual swapped-out classroom materials in place of furniture. I'm also working on another short story from Archon Darkstorm's post-apocalyptic world, and it's gotten more complicated than intended (involving robots will do that, I fear). Then we've got the new Pavel Chekhov passing away, odd things afoot in Britain, and this pesky squirrel that won't quit digging up the same strawberry plant from my garden every other day! We need some diversions:
• A music artist going by the name Ursine Vulpine supplied a cover song for the Forza Horizon 3 racing video game, and it's pretty cool. It's Wicked Game, featuring vocals by Annaca. He also did some pretty nifty Star Wars trailer music.
• Want to make your own creepypasta? For those not familiar with the term, it's a spooky story perpetuated on the internet. Here's a handy article & infographic on building a better Slenderman, or whatever horror strikes your fancy.
• Another infographic for that handy "Rainy Day Apocalypse" book we're all compiling: What to grow to survive the apocalypse. Happy gardening!
• If that link was a little distressing, we can all try to be as happy as this bird having fun with golf balls.
• In my efforts to locate gaming dice in historical places, here's a collection of treasures from Tipu Sultan, the ruler of a kingdom in southern India from 1750-1799. Scroll down to see the big golden d20 box he had.
• The next Ghostbusters movie is breaking one of the cardinal rules: It's messing up the iconic theme song. Lest anyone think this is unique to the new film, let me just direct you to this version of the theme by Run-DMC from the Ghostbusters 2 soundtrack… which I used to have on cassette.
• The new Star Trek TV show will finally be getting what fans want: A show where the crew isn't bound by broadcast standards, so… swearing Vulcans, I guess?
• And here's a flash game that's for platform and upgrade aficionados alike: Endeavor. Find items to give your fallen dwarf more power and see how many endings you can discover to this adventure game…