on
January 17, 2018
at
8:20 PM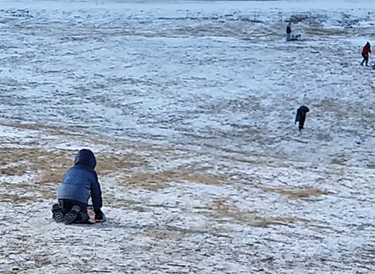 So it got cold recently. *Really* cold, to the point where crystallized water fell from the sky and accumulated on the ground. This summoned a small creature holding a flat plank-like object made of plastic who kept tugging at my sleeve saying "sledding!"
So for what turned out to be a four-day weekend (thanks to a holiday and snow day), I did my duty standing sentinel as my son flew down a nearby hill until he and the others had worn the snow off of the grass. My wife was unavailable due to being almost-flu-level-sick, and I only had a milder version of her head cold, so I was drafted into service.
Since we weren't willing to die of exposure the entire weekend, I went and looked at software that was on sale with which I might amuse my offspring (while his mom & dad tried to recover from their respective illnesses). Humblebundle had the tail end of their holiday sale still going on at the time, and I found something controversial to pick up for our wee lad: No Man's Sky.
For the one or two of you out there who play games and haven't heard of this title, it's kind of a shining example of what too much hype, too many promises, and two early a ship date can do to a game and the reputations of those who made it. Reviews ranged from "this is completely awful" to "yeah, it's bad, but it's okay if you enjoy a zen-like experience." Our son had (thanks to me) seen the trailers over a year ago, finding them cool and atmospheric, so he was all aboard for giving the game a try, and overall, he digs it. His enjoyment stems from the fact that this is his first flight sim of any kind, he gets to tool around in spaceships, there's a "creative mode" where you don't have to spend hours gathering resources, and he gets to blow things up with his pew-pew guns. It's kind of a slightly more violent space-based version of one of his other favorite titles, Burnout Paradise.
I should mention the main attraction for picking up a game I knew was flawed and might not ever be improved much more was the fact that it was on sale for about $20, which is about a third of its usual retail price, which was another sticking point for the hatred it garnered from gamers. It did get an update in October, but the little I played showed me some of the complaints about confusing controls and the resource gathering cycle are still there.
Perhaps I'll give an in-depth look at the game if it has another large update and I have the time to devote to it. As it stands, I'll just watch Josh occasionally take his ship for a spin and complain about the injustice of being fired upon when all he did was blow up "only one" of a fleet's ships. 🙂