on
May 29, 2016
at
10:28 PM
Flash Fiction Weekend continues with a pretty good-sized short story that takes place in a world of superheroes. It's a stretch, I know, but I think it's an interesting idea that would've worked in a comic-book version of the Twilight Zone. The image below is pretty much unrelated, just what I had handy under the heading of "hero."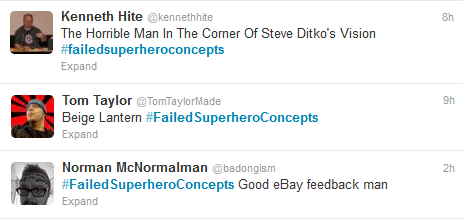 Another morning of running, running, running. The young man who called himself "Stopwatch" ran around cars and people who might as well have been statues. He left holes through standing clouds of steam from manhole covers and put a self-shaped cutout in the fanning spray from a lawn sprinkler. If he squinted, he could see the path he left in the air itself slowly closing as he moved through it.
He arrived at his destination, a nondescript office building in a larger complex near a decent-sized city. Finding it had been a bit of an annoyance, since Stopwatch found it hard to use computers, even though LCD screens were easier to read for him than the few flickering CRTs he occasionally ran across.
The Longscale Corporate Complex had been built recently, so it hadn't been on any printed maps he could find, unless he was willing to be bored out of his skull searching through records at the city planning office. That research was nothing as compared to what he'd had to do regarding the employees working there, but it was all a part of the job, he supposed.
His solution was to pick a few "target" computers on his travel routes, and slowly type in what he was searching for, coming back to add a few keystrokes slowly enough so the computer didn't get confused, and then finally, finally get the results in what seemed like an eternity later. He'd scribble what he needed down on an ever-growing collection of notebooks.
Stopwatch didn't know it, but his microscopic shorthand and organizational system would someday be the basis for a fairly efficient computer language, once the people studying it figured out what they were looking at.
The office building was deceptive, as many of its cameras also sported lasers strong enough to burn through flesh, many of the landscaping features hid pop-up turrets, and the outer surface of the place could withstand several direct impacts from bunker-buster bombs before you'd need to call the insurance company about making a claim for repairs.
Above him, right on schedule, were several people in brightly-colored costumes, some in armor, others with fantastical weapons out of movies that usually featured orcs or robots. Stopwatch could almost imagine he saw them moving forward, ever so slightly, the air molecules compressing in front of their flight paths, as if they were human-shaped bullets.
↓ Read the rest of this entry…