on
May 26, 2017
at
11:43 AM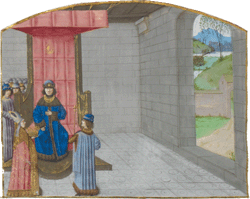 The image to the left is called The coronation of King Arthur, from the Anciennes et nouvelles chroniques d'Angleterre, noted for the artist accidentally standing several feet to the right of where all the action was taking place. That, or they really liked walls and floors.
• Here's a link that's Arthurian in a way that Arthur with Dudley Moore isn't Arthurian: It's a collection of medieval manuscripts featuring King Arthur. Oh, and nice going whoever spilled their drink on Le Livre de Merlin.
• William Gibson apparently wrote a never-filmed Aliens movie sequel, and you can read it here, or if you want to jump right in, the script is over here.
• Written in the form of a text adventure from the days of yore, here's a Tumblr post that attempts to be a cat ownership simulator.
• Yay! Agents of SHIELD is getting another season!
• Someday, I'm sure this will be playable via SCIENCE!, but for now, it's just some pretty good classic Doom fingernail art.
• Read about the "great lost board game" of Dune. If you own a copy, it's worth quite a bit on eBay.
• While were in retro-land and looking at games, here's some old Atari arcade concept art of their futuristic video game cabinets.
• And from the cartoon We Bare Bears comes a beat-em-up time waster, Polar Force. Using only the left and right arrow keys, string together combos as your polar bear uses its martial arts skills to defeat an army of robots.