on
August 15, 2017
at
10:12 PM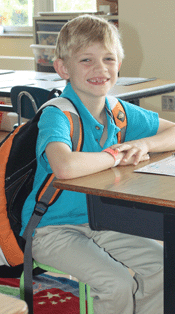 This was another jam-packed week and weekend, as Josh headed off to second grade and Cristi had to get a new classroom put together (with my help). Having helped my wife to move things relevant to her Early Childhood teaching duties before, as well as being called upon to repair some of those items after too many moves or too much love, I have to say two things:
1. Every grade-school classroom in the nation should probably have at least two wood clamps and some heavy-duty wood glue on hand. All that blonde wood stuff will eventually crack or be damaged, but it's sturdy enough to take some repair work and still be almost as good as new.
2. Anyone who uses something like "Gorilla Glue" on wood should be shunned by society at large for their sins. I don't care what it says it can hold together, it doesn't do well with wood, and when it fails, it leaves a non-porous mess that has to be picked or sanded off so some real wood glue can soak in and hold the pieces together.
And, naturally, somewhere along the way I pinched a nerve in my back hard enough that I feel like I should be bleeding internally. I've had this happen before, and the worst part is not wanting to go to bed, since lying down for over an hour just lets the nerve endings regroup and attack when you least expect it. I probably helped bring this on myself due to sitting at a keyboard most of the day and not getting enough potassium in my diet, so walking Josh to and from the bus stop every day and snacking on bananas should help.
On the up side, I've managed to get a lot of writing done, and I'm about ready to inflict some on the world at large. I've got one idea that would kind of be a text-based webcomic, featuring a few pages of development a week. Of course, I'm trying to flesh it out and make sure it's got legs before doing so, but I think it'll work. Look for that (and a new blog category) soon.
Now to draw some more without leaning forward or moving my hips, because if I do, the demons will make my vision go red and I may wind up on the floor again. 🙂