on
July 23, 2014
at
9:41 AM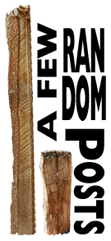 It's been absolutely crazy around here, and I hope to come up for air soon, but in the meantime, have some internet:
• Weird Al has been releasing a ton of videos, which are handily collected at his home page. Also, his new album entered the Billboard charts at #1. Our dreams have come true, Friends of Al!
• Here's how artist Brynn Metheney uses reference photos from Pinterest to make alien creature designs.
• Apparently, a certain reviled leader from WWII practiced his posing and hand gestures with a photographer before rampaging all over Europe. Even though the photos were ordered destroyed, a few of them can be viewed here.
• An intrepid reporter dares to test the "All You Can Eat" policy regarding TGI Friday's Mozzarella Sticks.
• It's D&D's 40th anniversary, there's a new edition coming out, and it's time for news outlets to write articles about this "game-role-play-thing" they've heard so much about. Here's a handy checklist for their pieces, with a +2 bonus to cynicism.
• And it's been a while since I posted a flash game, so here's a simple and satisfying one: Purrmageddon has you, a cat, piloting your giant, beweaponed battle-mech against hapless military units that you playfully destroy. Like a real cat would, if given the chance.